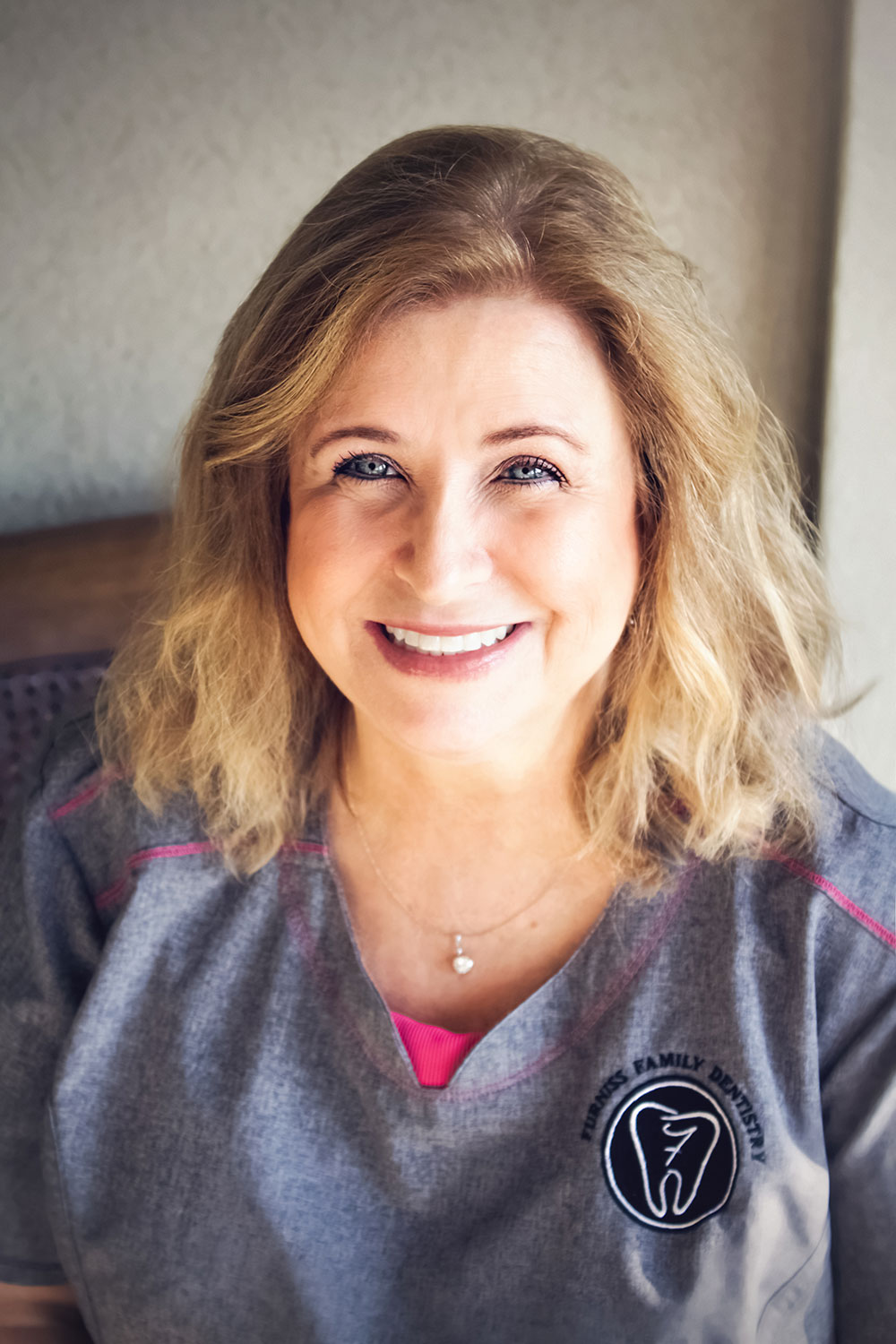 Penney.
Penney is our Office Manager. She has been in the dental field for several years, and she joined our team in 2013. Penney has worked in all aspects of the dental field, from registered dental assistant to Hygiene Coordinator. Her organizational skills are second to none and we love having her on our team. She is married and has three kids; Cody, Wyatt, and Melanie. Penney enjoys spending time with her family and friends.
Bonnie.
Bonnie spent much of her dental career working for 16 years as a dental orthodontic assistant. She has been with Dr. Furniss since April 2017 as our Hygiene Coordinator. Her sense of humor and her work ethic are a wonderful part of our team!
Bonnie has 4 children and 4 grandchildren. She enjoys spending time with her family, riding four-wheelers, camping, and boating.
Tonya.
Tonya is a Registered Dental Hygienist. She worked for Dr. Bishop for 9 years and then worked for Pinnacle Periodontics in Longview as well. We're happy to announce that Tonya returned to our practice full-time in January 2018! We are so happy to have her back in our practice. She is a very skilled hygienist and she is also a certified Orofacial Myofunctional Therapist. She uses this certification to help our patients recover properly after laser surgery to remove tongue and lip tie problems. Tonya is married with 2 children; Baylee and Zoey, and she enjoys spending time with her family.
Kim.
Kim has been with our practice since 2012 as a Registered Dental Assistant. She began her dental career in 2001 and has shown much dedication to her career in learning new treatment modalities and adapting quickly to the new technologies Dr. Furniss has implemented in our office. Her kind and gentle caring attitude is appreciated by all of our patients. Kim is married with two amazing children Jade and Gavin. They enjoy spending time at the lake boating and camping as well as cookouts with family and friends.
Heather.
Heather has been working in dentistry since 2007 and she joined our dental practice as an assistant in May of 2018. She loves the outdoors, camping, fishing, and hunting. Heather has a teenage daughter named Chloe who is involved in sports and keeps her busy. Heather also loves animals and enjoys spending time with her family and friends.
Rachel.
Rachel graduated from TJC in 2018 and joined our team in 2019. She has a husband named Travis and a pet Beagle named Stormi. Rachel's hobbies include running, cycling, and playing the piano. Her favorite part about dental hygiene is building relationships with her patients and helping them to be comfortable.